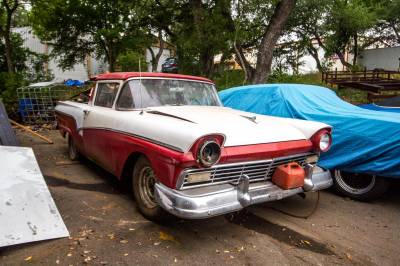 In the automotive collector world the term "Barn Find" gets bandied about quite a bit. This term brings up wishful thinking about finding a classic, old car sitting in a barn. The term refers to find a car that was tucked away in storage for a long time. Forgotten about. Then someone comes along and discovers some hidden gem that could be restored into something special. Many times that is a distortion of the truth. People will call any car that has been sitting in a garage for years a barn find.
That dilutes the impact of finding a car IN A BARN. The 1957 Ford Ranchero you are looking at here was literally pulled from a barn. The owner passed away and as part of an estate sale we were able to acquire this neat old pickup. And yes, we actually had to pull open real barn doors to retrieve it. We put air in the tires and put it onto a trailer and hauled it to our facility. That is what you see here. Just a car and all its parts that were rescued form a barn.
Stay tuned to see what we have in store for this classic Ford Ranchero. Be sure to click on this truck's Project Page here to see updates as they are posted. This should be a fun project.
Click on any photo to see a larger version.